1. Our treatment results
The best achievable results in a short time
We achieve a maximum treatment effect in the shortest possible time by:
having a clear treatment plan, focused on specific goals
evaluating regularly to ensure the effectiveness of the treatment
using ROM questionnaires to measure the progress from start to finish
What is ROM?
The abbreviation ROM stands for Routine Outcome Measurement. It is used to measure the degree of (psychological) complaints. During the treatment, a ROM is taken every three to five sessions. The results of the ROM provide an indication of the achieved treatment effect (reduction of complaints). Based on this, the practitioner can decide to apply other treatment interventions or, if the results are good, to work towards a completion of the treatment.
More effective than those of other institutions
Analysis of independent research groups shows that our treatment results are significantly higher than the national average*. The treatment effect (ΔT) for adults is shown in the graph below.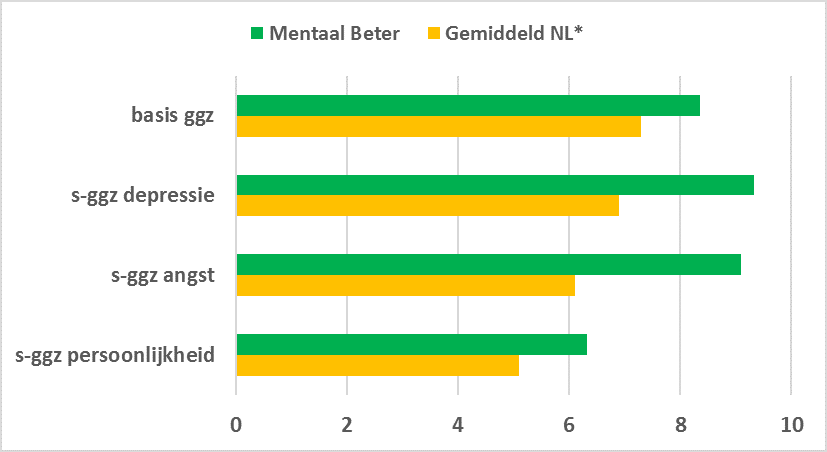 *Source: BRAM module, Benchmark GGZ Foundation
Delivery of ROM data to AKWA GGZ
We ask every client for permission to provide data to AKWA GGZ. This is part of the treatment agreement. The anonymous data is used to improve the quality of mental health care services.
2. Client satisfaction
Client Experience and Satisfaction Survey (CQi)
We offer high-quality care, in which we ensure that our clients come first, treatments are effective, and safety for both clients and their environments is secured. Our most important core values are based on a personal, clear, goal-oriented approach in which we actively work together with our clients. This is characterized by customized treatments, openness in communication, and satisfactory results.
Mentaal Beter works with a continuous CQi (Consumer Quality Index) measurement. The CQi is a tool that, in addition to satisfaction, mainly measures the experiences of clients that are receiving (mental) health care. The use of this tool is supported by the Dutch Ministry of Health, Welfare and Sports (VWS) and all parties in the health care sector. We aim to conduct a client satisfaction survey at the end of every treatment instead of using client samples. The results of our client experience survey based on the CQi were analyzed by an independent research agency, Triqs.
In 2021, 5.188 adult clients scored Mentaal Beter with an 8.5 on average.
We are satisfied with the results of the 2021 CQi survey. We have managed to maintain the high scores of previous years, while a large part of our treatments took place during the COVID-19 pandemic. As a result, a significant part (about 40%) of our sessions with clients took place via video calling. We are proud that our core value 'personal' is still reflected in the results of the CQi. We also see a higher score on the subscale 'Deciding together', this shows that important decisions are made together with the client. There are also some points of attention, such as the provision of information to our clients regarding online treatment. Every year we draw up a plan of improvement based on such points of attention and discuss this with our client council.
ZorgkaartNederland
The website of ZorgkaartNederland has been developed in order to give clients a reliable and objective reference platform regarding other clients' experiences in health care, including mental health care. ZorgkaartNederland aims to offer transparent advice with the help of qualitative reviews from clients. All of our practices in the Netherlands are affiliated with ZorgkaartNederland and can also be assessed by you as a client.